Friday, November 21, 2008
Up early, planning on taking a slow ride past all the spots between here and Rincon, to get a good metering of the situation. It's choppy up this way with the wind out of the north northeast.
But our plans are foiled at first when Bogie slipped out the opened gate while we were gathering our stuff together, and disappeared.
Oh shit.
We've lost David's dog.
Great gnashing of teeth and we get in the car and light out for the open road, looking for a missing yellow lab.
Well at least it gives us a good chance to verify the choppiness and size while we drive futilely up and down the road with no dog in sight.
Shit.
Ok, drive back to the casa, and low and behold, Bogie's back in the back yard, inside the fence despite the fact that the gate is still wide open. Bogie's a good dog, and knows more about what's what than we do, it would appear.
Scramble to it, and secure the damn dog!
Phew!
Now, where were we?
Oh yeah, headed to Aguadilla for a detailed look at things.
First stop, the road to Crashboat and Gas Chamber.
The wonkus wind is fairly light at this point on the coastline, but there's a bobble on the waves, and the swell angle must be too north, 'cause Crashboat is basically not breaking (with about five guys out hanging around hopefully in front of the concrete), and Gas Chamber isn't looking all that good either, despite a dozen or two spongers floating in the lineup.
So ok, let's proceed.
And on into town, for my first visit to the breaks of Aguadilla proper.
Funky-chicken town, no doubt about it.
Zillions of small shops, narrow roadways, traffic and pedestrians darting hither and yon, and all of it pressed hard by the ocean's edge.
| | |
| --- | --- |
| | |
| Got a nice look to it every so often | |
Our first check is the little jetty by the sanded-over inlet that once upon a time was Aguadilla "Harbor," and although there's waves, it's not fully epic. Which, of course, means that it's probably better than anything you've ever ridden in Florida. The bodyboarders are out in force and an occasional right-hand funnel loops through, but there's no way we're paddling out there this morning. I snap a few shots of the place while we're here.

This was shot with a 50mm lens from across the bay, and cropped in on to enlarge, so please accept my apologies for the quality, ok?

Nice ride, but it gets him in the end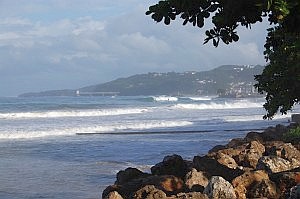 Looking back upcoast toward Bridges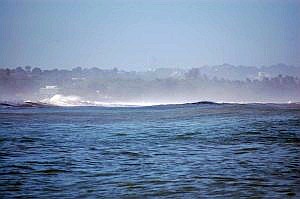 Coming in, across the bay
Onward.
Next stop, Bridges. More rights.
Hefty crowd and maybe head high to a trifle overhead, but the slight lumpularity in the swell is keeping it from really lighting up and firing.
Next stop, Schoolyards. Don't even ask about lefts. Ain't none. Shoulder high or so, a bit larger once in a while. Still got the wonkus wobble, but Claudie decides to go out. I decide to stay put and take a few more pictures in the sunny, well-lit conditions, to go with the ones I've already gotten.
Nothing epic, but back in Florida it would qualify as one of the best days of the damned year, with right-handers firing down the almost-a-point and people having varying degrees of success with it. Claudie, of course, does just fine and has himself a typically smooth and subtle session and then comes back in and we're on the road again.
Next stop, Maria's.
BoomBOOM!
Well it's certainly a little bigger over this way, isn't it?
Yes. Yes it is.
Nobody out at Maria's.
Reasonably enough.
The swell is coming in all over the place, and it's still got a less than perfectly-even aspect to it, and it's just HAMMERING out there. The wind is acceptably offshore, but there's no proper lineup and big bombs are going off all over the place. Impossible paddle out, and, as if to prove it, a lone guy enters the water and promptly disappears downpoint, never even getting to the middle zone, nevermind outside, swept along by the very respectable current that's rolling right along in the hard north angle swell.
Hmmm.
Tres?
TRES!
Not nearly as large as it was last March, but it's still plenty big enough and this time I have the good sense to stay dry. I'm not 24 years old anymore, but at least now I've come to peaceable terms with that less than cheerful fact. Photos will be all I take at Tres today.
But it's looking quite tasty out there, and it's easily the cleanest, most lined-up wave anywhere.
So we sit and watch and admire things for a while before departing so Claudie can get a few things taken care of here and there. More photographs in the bag, too.
We return to Maria's and I get myself a bunch of nice shots with sparkling pastel green water and plenty of wave action. It was bigger than these pictures make it look. Still nobody out.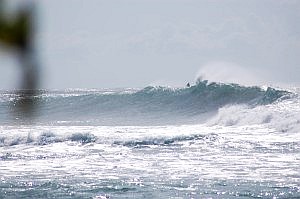 I told you it was bigger than these pictures make it look.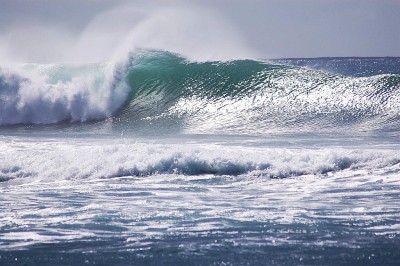 Nice long sequence
A couple more intrepid souls make the attempt, but it's strictly no-go. A solo jetskier buzzes around pulling his buddy into a few down at Dogman's and beyond, but they don't really seem to be too dialed in to things and it's a lackluster effort for the most part. Finally, we depart back toward whence we came.
Pull back in to Aguadilla to hit the same places we saw before, but in reverse order.
And lo and behold, Schoolyards is no longer wonkus looking and has been groomed ruler-edged by the now brisk trade wind, blowing nicely offshore.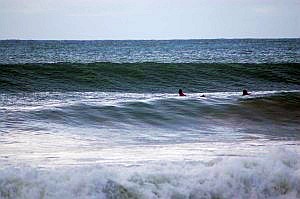 Schoolyard's finally cleaned up
Claudie very graciously decides to sit tight and allow me to indulge myself.
Yaaaaaaaaaay.
It's not very big out there. Chest high or so, maybe a bit larger every once in a while, but it's just rifling down the beach like a zipper. The sun has gone behind a deck of clouds, but the quality of the wave makes up for any less than sterling look to things.
Crowd is none too bad, maybe a fifteen or twenty people, and I manage to slip in amongst them and grab a surprising amount of waves in a very short time, never riding with anybody in front of me, never riding with anybody behind me.
Gotta like that.
The wave just zings along and my flat-bottom tucked-rail 9'7" continues to earn its keep with lots of speed down the line (a must at this spot), and a rock-solid feel off the bottom and through any turns, although I don't do a single full cutback on any of my rides as I focus on staying ahead of things, winging it at full speed, down the line. Even manage to get in a few backwards rides while I'm at it. Tra la la.
Couple of dozen waves later, and I figure I'm good to go. Well….that and the smell of raw sewage in the water. Don't think I want to be taking a bath in this stuff any longer than I must. There's a little bitty rivulet that empties out right in the middle of the break, and the damn thing is nasty with the smell of sewage, which then wafts out into the lineup, cheering all who encounter it.
Bleh.
Schoolyard's
But the waves were a complete tickle, and are noticeably improved over this morning, despite having come down just a weency little bit.
I persuade Claudie to take a second session, and he's out there in short order, smoothing through things as per usual.
Eventually, he's had enough too, and we roll on home without bothering to check anywhere else, satisfied with what we've had.
We arrive to see that Bogie is still with us in the back yard. That's nice.
Time for a shower and alcohol in the ears to hopefully ward off the evil influence of that nasty damn water at Schoolyards.
Hopefully we won't come down with a case of Typhus or Ebola or whatever the hell it was in that water and all will be well.